Setting Your Business Up for Success
In order to be successful in any business, you'll need to be organized and disciplined. In this new age of the smartphone, it's easy to fall into the trap of thinking that you can work and schedule bookings from anywhere. Forget about it! You need to set up a proper office where you can work away from the distractions of family, friends, TV and the fridge. If you do, you'll be more organized and will be able to take advantage of the opportunities that come your way.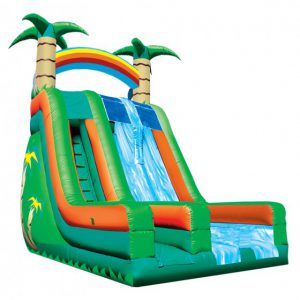 There are a variety of factors that go into setting up a home office. Let's get into some specifics.
Office Space
Your office is the hub of your business. This is where you will answer phone calls, book rentals and communicate to your employees. When you're just beginning your inflatable rental business, it makes the most sense to set up a home office. A home office is extremely cost-effective, and when set up properly, you can accomplish the same tasks as you would in an office building.
Here are the necessary items you'll need to operate out of your home office.
A spare room or a designated area in your house/garage to use as office space

A desk and a quality office chair (You'll be spending a lot of time in this chair, so make sure it's comfortable!)
High-speed Internet access
A phone line separate from your home phone or your cell phone (You may consider adding a two-line landline phone system, or you can look into applications such as Google Voice, which allow you to have a separate telephone number that forwards to your cell phone)
A fax machine
An all-in-one printer, scanner and copier
A desk calendar and a yearly planner (Or, if you prefer, choose a calendar application online or on your computer)
A newer computer (Choose whatever operating platform you are most comfortable with – Mac or PC)
Basic office supplies (pens, notepads, stapler, files, file folders, etc.)
Invoice pads
Accounting software (you'll want to always stay on top of your expenses and your finances!)
Rental software (like Inflatable Office or RentMaster…having one of these will make booking rentals much easier!)
Microsoft Office Suite (you'll be drafting word documents and spreadsheets on a frequent basis)
A custom letterhead with your business name, logo, and contact information
File folders and file cabinets
Space to store your inflatable units. (This could be in a garage, or any space reserved in your home)
It's important to remember that all of the equipment and the space you use in your home for your business becomes a tax write off for you, and it is completely tax deductible.  You may want to consult with an accountant or a tax professional for more information on how this works, and how to properly document your office and storage costs.
Once your home office is set up, take the time to layout a weekly office work schedule. Treat your home office just as a regular office, and only work on items that are related to your inflatable rental business. Try not to attend to personal matters while working in your home office. This is the hub of your business, so take your time here seriously.