As an inflatable business owner, creating a strong brand partnership is a great strategy to increase profits. Many event planners are seeking out all-in-one solutions and would jump at the chance to be able to book multiple vendors as a package deal.
Some inflatable companies are making the mistake of not partnering with other vendors. It's common to have the feeling that if you partner with a DJ, for example, that the event planner will be willing to spend more on that element than your inflatable units. However, most busy event planners are willing to spend more on vendors who come via a recommendation or packaged deal.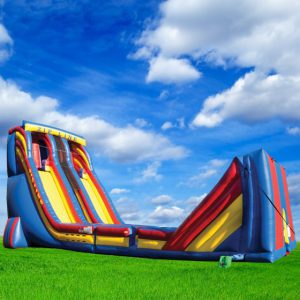 Looking for vendors in your area will be the first step to creating a strategic partnership. Many inflatable businesses go hand-in-hand with other entertainment elements like magicians, clowns, dancers, balloon and temporary tattoo artists. These could be your first prospects. Find vendors who will have something to gain by partnering with you. You'll want to look for vendors with a similar business size and target markets to ensure a good partnership.
Once you have built up the entertainment side start seeking out partnerships with other vendors like caterers, specialty dessert trucks or carts (cotton candy, churros, snow cones, etc.) and party rental companies. These larger vendors will have a wealth of referral business to pass your way. Building up trust with these vendors will be key as they are more likely to be sought out for partnerships. Try offering a demo at their next client event or perform a demo for the children of their employees. Show how professional, fun and well-maintained the units are and that you offer excellent customer service.
Partnering with vendors will require some trial and error to see which are good matches for your business. However, if you build a mutually beneficial and trusting relationship, working with vendors can prove very lucrative for your inflatable rental business.
If you have any questions about growing your inflatable business, feel free to give us a call at 1-800-569-0719, or send us a message.